High Temperature Valve Ss304 316 Integrated Needle Valve Manifolds Group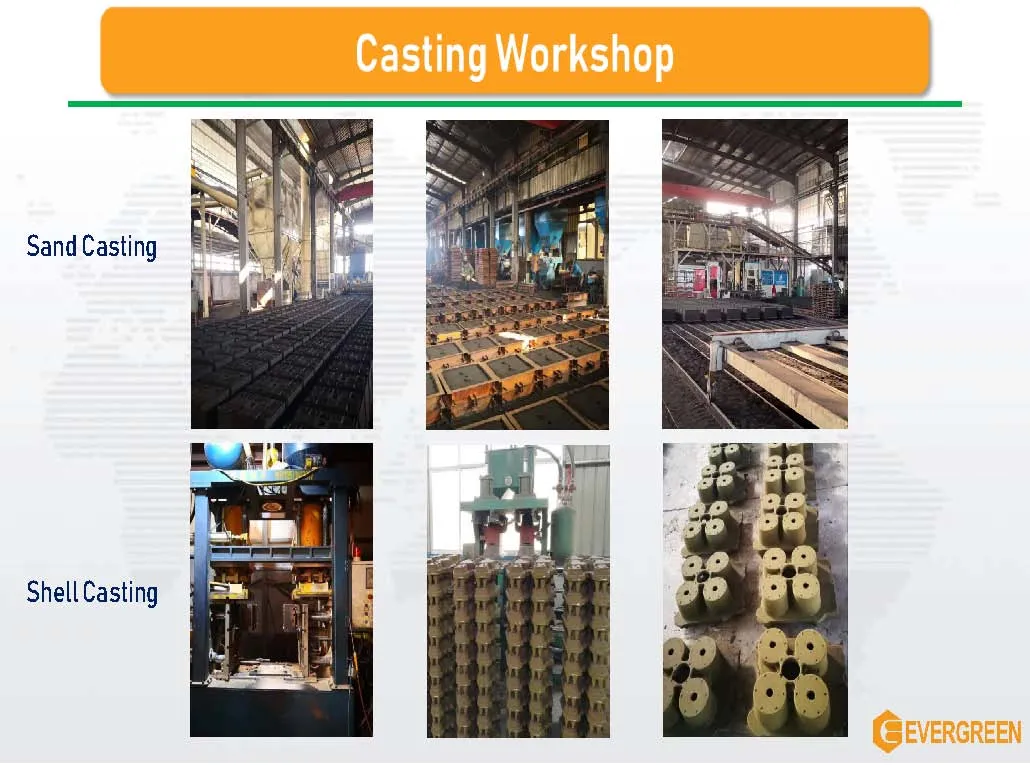 Technology Terms:
1. ISO9001 & TS 16949 Certified.
2. Products Material Standard: ISO, GB, ASTM, SAE, ISO, EN, DIN, JIS, BS
3. Product weight range: From 0.05 kg to 1000kg;
4. Main process: Sand Casting, Shell casting, Deburring, Sandblasting, Machining, Heat Treatment, Leakage test, Surface treatment, etc.
5. Material Available:
- Ductile Iron: QT400, QT450, QT500, QT600, QT700, QT800, and GGG40, GGG50, GGG60, GGG70, GGG80, etc.
- Grey iron: HT100, HT150, HT200, HT250, HT300, HT350 and GG15, GG20, GG25, GG30, GG35, GG40.
- Other Material:Cast Iron, Steel, Aluminum, Brass, Alloys or as per customer requirements, etc.
6. Available software: Pro/E, Auto CAD, Solidwork.
7. 2D & 3D Drawings (Igs, PDF, JPEG, DWG, CAXA, UG, Stp...etc.)could be made and provided based on the samples.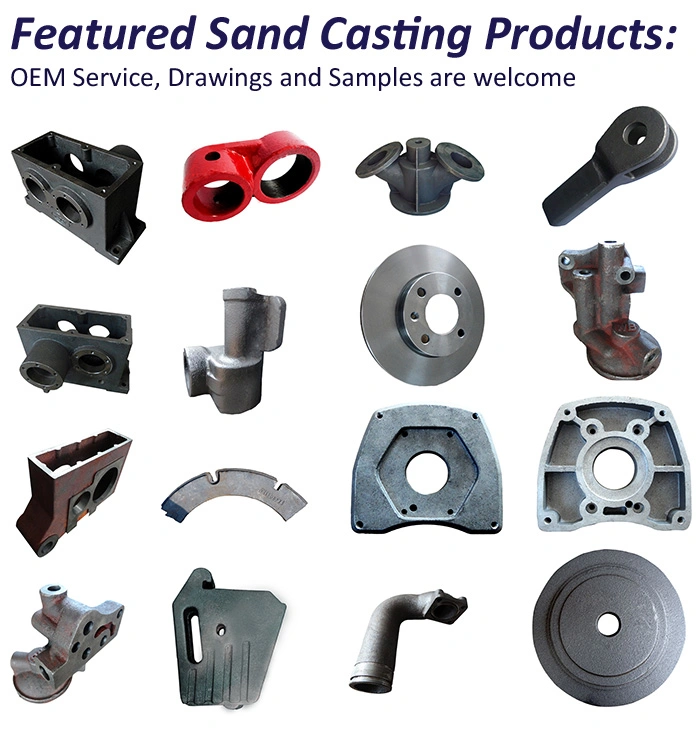 Tooling and Mold:
1. Mould life: usually semi-permanent.
2. Tooling Leadtime: 2 weeks, depending on the structure and size.3. Tooling & mould maintenance: Be responsible by Evergreen Machinery.
Quality control:
1. Quality control: The defective products rate is less 0.1%.
2. Sample and pilot run will be given 100% inspection during production and before shipment, Sample check for mass production according to ISO standard or customer requirements
3. Test equipment: Spectrum Analyzer, CMM, Hardness test equipment, Tension test machine;
4. After-sales services are available.
5. Quality situation can be traceable.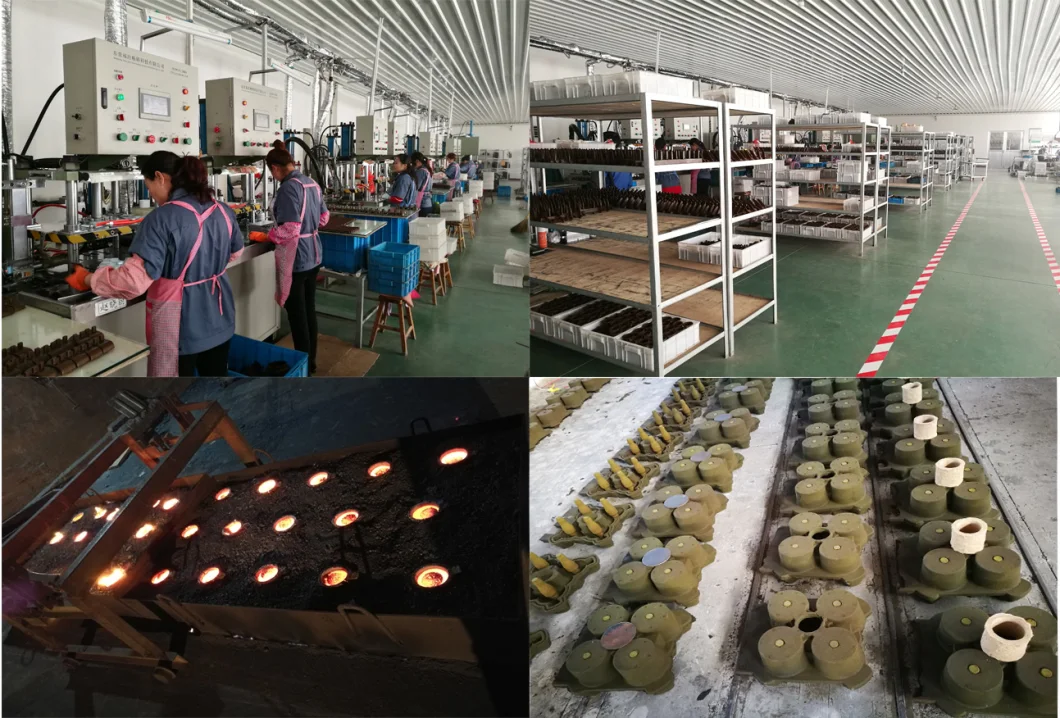 Why Qingdao Evergreen:
1. 25 years of experience
in casting and forging for European and U.S. markets.
2
..
OEM & ODM products application
: Auto parts, Engine parts, Agriculture equipment parts, Train parts, Valve, Pump, etc.
3
.
Materia
l:
Grey Iron: HT100/HT150/HT200/HT250/HT300/HT350, Ductile Iron: QT400/QT450/QT500/QT600;4. Material Standard: ASTM, SAE, JIS, BS, DIN, ISO, GB.5
.
Product weight
: From 0.05~1000kg;
6
.
Machining equipment
: CNC, Lathe machine, Milling machine, Drilling machine, and so on;
7
.
Test equipment
: Optical Spectrum Analyzer, CMM, Hardness test equipment, Tensile test machine;
8
.
Surface treatment
:
Blacking, Polishing, Anodize, Painting, Chrome plating, Zinc plating,Nickel plating, Tinting, Power coating, E-coating, etc...9. Applied software for specification drawings: Pro/E, Auto CAD, Solidwork, CAXA, UG. etc.10. Further available process: Turning, cutting, milling, grinding, drilling, reaming, welding, stamping and threading.Semi-finished and finished Sand Casting Products: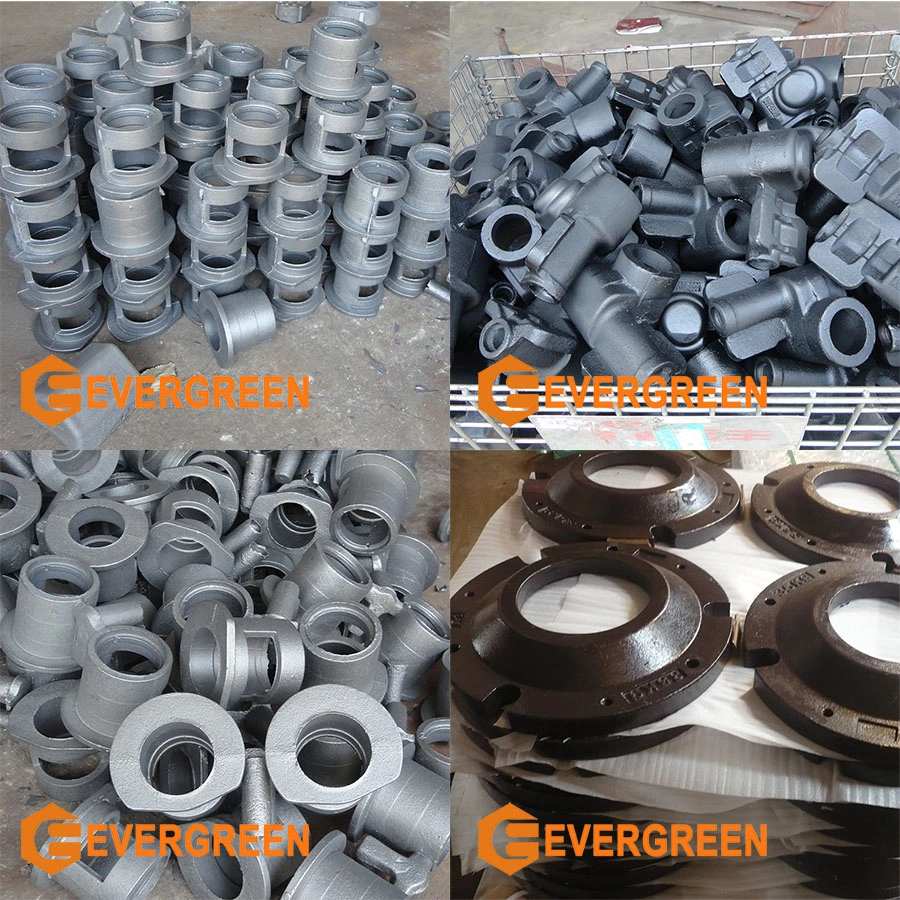 Qingdao Evergreen Machinery Co., Ltd
started business since 1995, it has 2 subsidiary plants, and the headquarter located in Qingdao, a very famous harbor city in China.
Our main business in metal products, and our
product range mainly covers Metal work, Aluminum Casting, Investment/Precision casting steel, Sand casting, Forging, and so on.
These products used in
Wind power, Turbine, heavy duty Truck, Train, Hydraulic Cylinder, Engine, Agriculture equipment, Lighting, Marine and Mining machinery, Hardware, Livestock breeding, etc.
Capability & Capacity:
Our capability and production capacity as below:
1. Capacity: 1> Al die casting: 3000~4000 ton per year; 2> Sand casting: 10000 ton per year; 3> Investment casting: 2000 ton per year; 4> Forging: 8000 ton per year.
2. Our metal work factory pass
EN15085 & ISO3834 welding certificate
3. Machining equipment: CNC, Lathe machine, Milling machine, Drilling machine, Grinding machine, and so on.
4. Test equipment: Optical Spectrum Analyzer, CMM, Hardness test equipment, Tensile test machine.
5. Surface treatment: Powder coating, Anodization, Chrome plating, Painting, Sand blasting, Galvanization.
Quality & Service:
Our quality philosophy is "
No Compromise
".
We have a diverse customer range reaching over 30 countries and regions, including Germany, USA, Australia and Japan. We're committed to serve our customer by providing quality products and services. For our original customers, we offer products and services that meet or exceed their expectations whenever needed. For our emerging market customers, we provide value-added, affordable products whenever possible.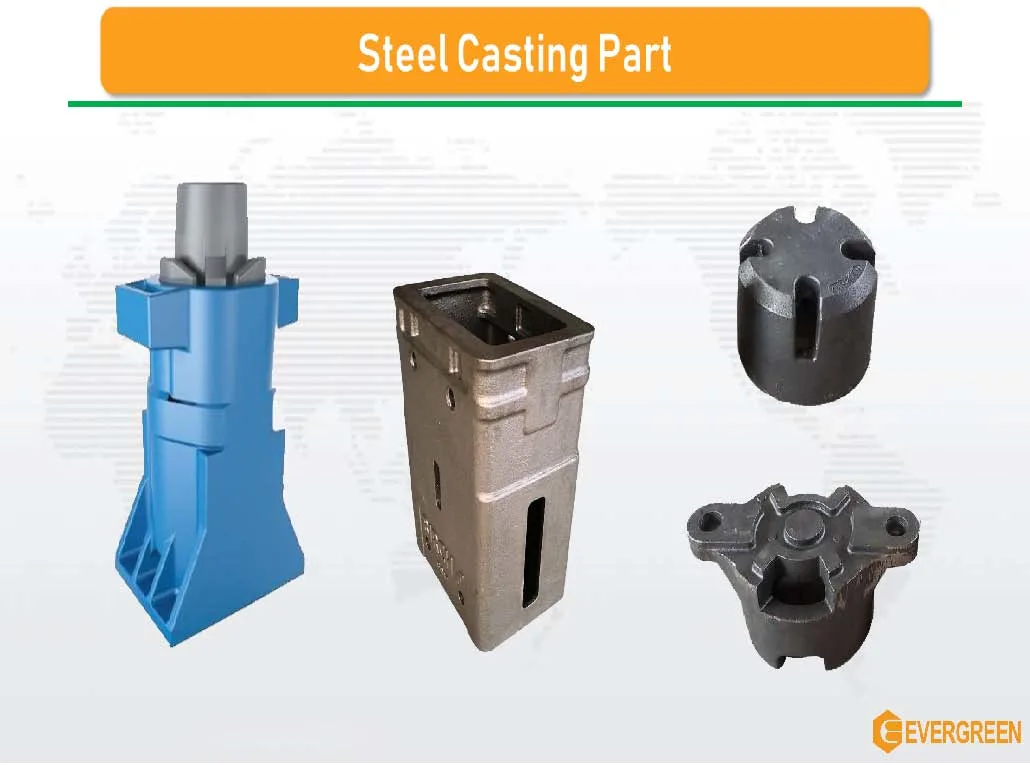 PROCESS TYPE
MATERIAL
STANDARD
Sand Casting
Green Sand
Grey Iron, Ductile Iron, Malleable Iron, Brass, Bronze
ISO
GB
ASTM
SAE
BS
JIS
DIN

Furan Resin Sand
Cold Harden Resin Sand
Investment casting
Water galss casting
Stainless Steel, Carbon Steel, Special Alloy Steel Bronze, Brass, Aluminum
Lost wax casting

Forging
Hot Forging
Stainless Steel, Carbon Steel, Alloy Streel, Brass, Aluminum
Warm Forging
Cold Forging
Machining and other further processiong
Stamping, cutting, welding, polishing,sand blasting......
All metal material
Who We ServeThe Applications of Our OEM Custom Metal Parts:
Engine parts,
Auto parts,
Machinery Parts,
Rail Train parts,
Truck Parts,
Tractor Parts
Construction Equipment
Agriculture Equipment,
Other industrial fields.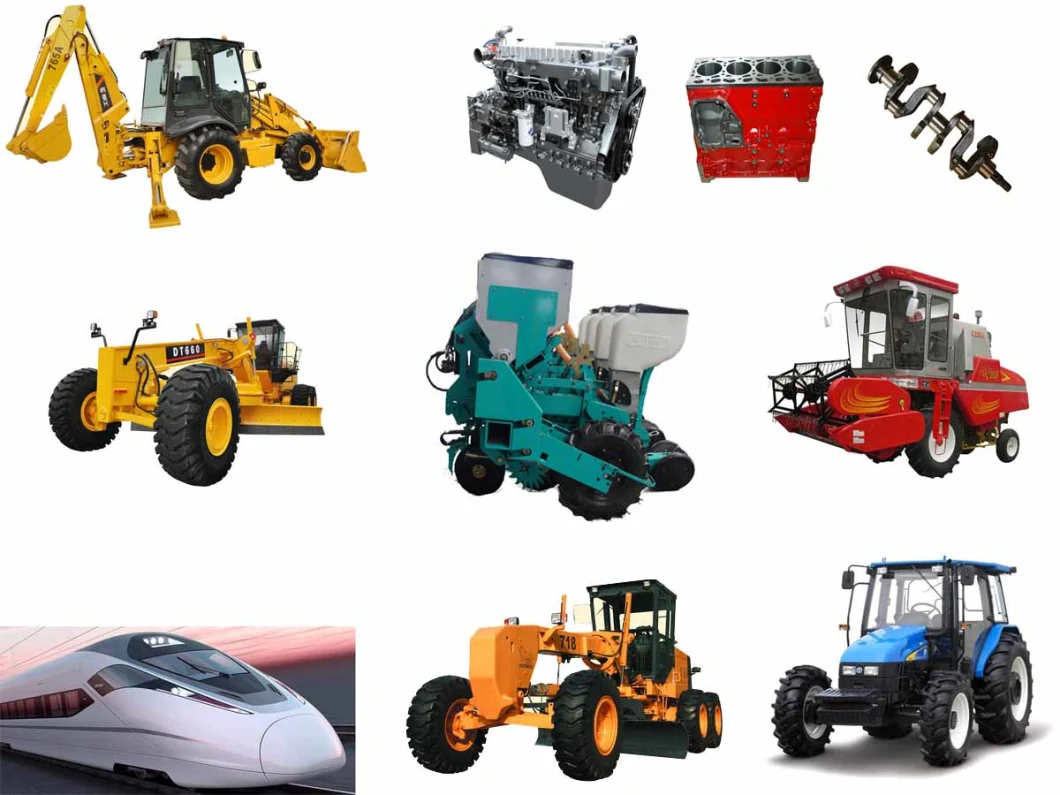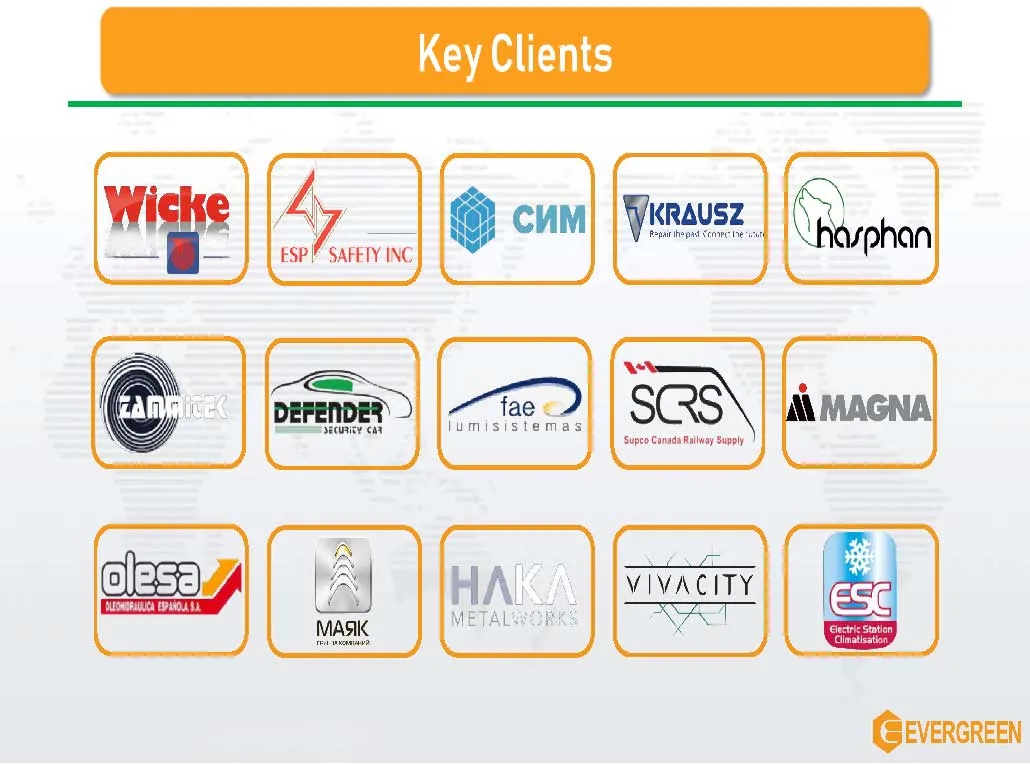 FAQ:Q: Do you make customized products or finished parts?
A: We make OEM or ODM products, all parts are not in stock, custom made according to customer's drawings or samples! If you have any parts to be made, please feel free to send your drawings/samples to us
.
Q: Will my drawing be safe after you get it?
A: Yes, we will not release your design to third party unless with your permission. And we can sign the NDA before you send the drawing.
Q: What is the MOQ?
A: Usually we don't set MOQ, but the more, the cheaper. Besides, we are happy to make prototype part or sample for clients to ensure quality standard.
Q: Whether some samples can be provided?
A: Yes, sample cost is needed, but we will return it back when proceed into mass production. If a tooling is needed, we will charge the mold fee before starting.

Q: What's your products range?
A: OEM & ODM products range: Auto parts, Truck Parts, Engine parts, Agriculture equipment parts, Train parts, Hardware, etc.

Q: What's machining machines do you have ?
A:
CNC, Lathe machine, Milling machine, Drilling machine, etc..
Q: Do you have any test equipment?
A: Yes, we have Optical Spectrum Analyzer, CMM, Hardness test equipment, Tensile test machine.
Q: How to deal it when they are found to be in poor quality?
A: Please rest assured that all of our products are QC inspected and accepted with inspection report before delivery and generally there will be no non-conformance; in case of non-conformance, please contact us immediately, sending us some pictures or videos or send the defective products to us for replacement.