Pneumatic V-port Regulating ball valve main parameters
.
Nominal pressure

PN1.6~6.4MPa

Nominal diamete

20~400mm

Appliable Temperature

Hard Seal:-40~300ºC




Soft Seal: -40~180ºC

Applicable medium

Water,gas,oil quality and so on.

Driving Mean

Manual ,Electric, Worm wheels, Pneumatic

Body materials

WCB, CF8, CF8M, CF3M

Stem

2Cr13, 304, 316

Rotary angle

90°

Core Material

CF8, CF8M, CF3M.
Pneumatic V-port Regulating ball valve Product Feature.
1. The shear force between the ball and the metal seat type V incision, especially suitable for containing fiber and small solid particle, pulp and other medium.
2. Fully open flow capacity, small pressure loss, and the media will not deposit in the body cavity.
3. Using a spring-loaded movable seat structure , Preventing the occurrence of ball core and valve seat from jamming or other issues, reliable sealing and long service life.
4. The valve has the advantages of accurate regulation and reliable positioning function, approximately equal percentage flow characteristics, large adjustable range, the maximum adjustable ratio 100:1.
Nominal diameter DN, Rated flow coefficient Kv, Allowable pressure difference.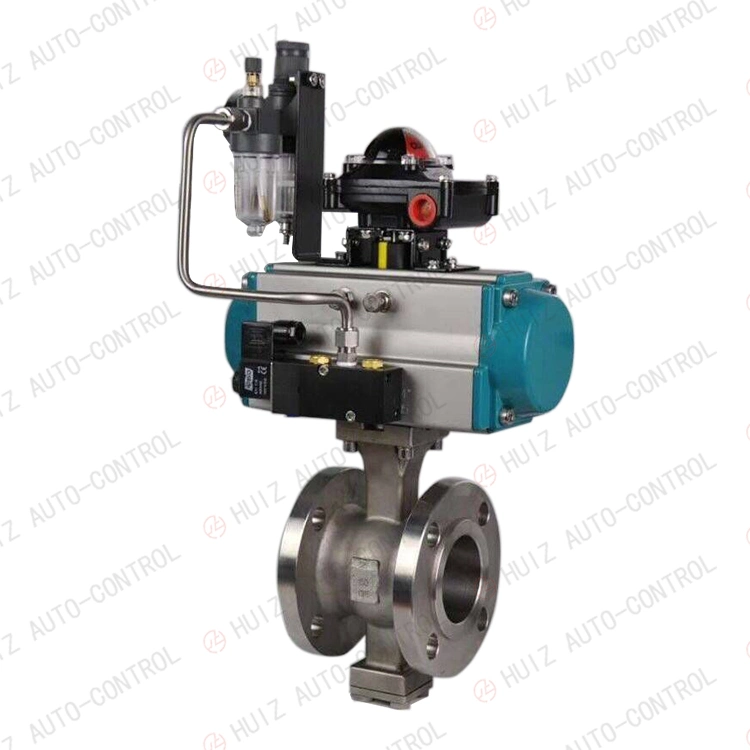 More Products
Control Valve

Pneumatic Control Valve

Electric Control Valve

Manual Control Valve

Self Operated Control Valve

Ball Valve

Pneumatic Ball Valve

Electric Ball Valve

Manual Ball Valve

Butterfly Valve

Pneumatic Butterfly Valve

Electric Butterfly Valve

Manual Butterfly Valve

Other Valves

Globe Valve

Gate Valve

Check Valve

Reducing Valve

Plug Valve

Safety Valve
About us